IBM set to commercialize quantum computers in 3-5 years, says executive
Aaron Lee, Taipei; Willis Ke, DIGITIMES
IBM is set to commercialize its quantum computers in the next 3-5 years, when they can outperform existing supercomputers in terms of computing capability in some specific domains, according to Norishige Morimoto, director of IBM Research in Tokyo and global vice president at IBM.
Morimoto made the disclosure when speaking at the opening session of IBM think Summit Taipei held on May 22.
Starting its R&D on quantum computing as early as in 1996, IBM released a 5-qubit quantum computer in 2016 and unveiled the world's first 20-qubit system, dubbed IBM Q System One, at CES 2019, Morimoto said, disclosing that the company will soon launch 58-qubit quantum computers.
He said that existing quantum computers are still unable to match current supercomputers based on traditional computing architectures in computing performance, thus not suitable for commercialization before the rollout of 58-qubit ones.
This is in line with expectations by most researchers that the first devices to achieve the so-called "quantum supremacy" over ordinary computers will require at least 50 qubits.
But quantum computers are not movable as they have to be installed in an isolated environment with a temperature of -273 degrees Celsius to avoid noise jamming, and therefore should be paired with supercomputers in actual applications, according to Morimoto.
Besides IBM, many more leading tech firms such as Google, Microsoft, NEC, Fujitsu and Alibaba are aggressively proceeding with related development projects, seeking to gain a preemptive presence in quantum computing.
At the summit, Morimoto also noted that despite AI applications advancing rapidly, the applications remain at the initial stage, mostly confined to "narrow AI" operations aiming to complete single mission of conducting data training and analysis for specific domains.
He stressed that there is still a long way to go to materialize "broad AI" applications, as it will take time for AI to be able to make data inferences through deep learning.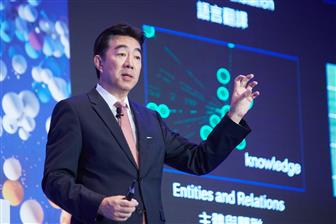 Norishige Morimoto, director of IBM Research inTokyo and global VP at IBM
Photo: Michael Lee, Digitimes, May 2019
This is a syndicated post. Read the original post at Source link .