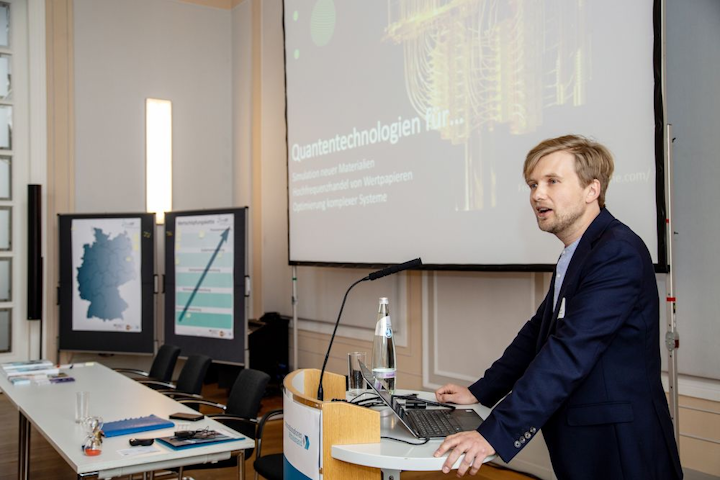 Markus Krutzik has organized the InnoQT workshop in Berlin, Germany, to set the stage for a new photonic QT network with research institutions and small and medium enterprises (SMEs) along the value chain.
FBH/ Katy Otto, www.katyotto.com
Last week about 100 people convened in Berlin, Germany to start a new local network for the development of quantum technologies. The list of participants was well-mixed, with locals and people from all across Germany and Europe; thus, it was a good occasion to find out more about the status of quantum technology (QT) in Germany and Europe.
On the government side, QT enjoys highest priority. It has become the subject of a governmental framework program in Germany — meaning that it is not just a subject of the ministry for research BMBF alone, but of the whole government. In fact, this program has been shaped by not less than four different ministries, which is quite uncommon.
New money has been allocated and funding programs have been issued for both institutional (€ 500 million) and project-related (€ 150 million) programs within the current legislative period until 2022. More money is coming: some € 300 million will be available in autumn 2020 for a strategic initiative on QT.
Institutional funding has led to an impressive number of foundations within the research community, including:
—Helmholtz Quantum Center HQC, Jülich
–DLR Institute for QT, Ulm
—PtB QT Competence Center QTZ, Berlin/Braunschweig
—Quantum alliance: Four Cluster of excellence at a total of eight universities
—Fraunhofer IOF's Quantum Photonics Lab, Jena
—Research group Integrated QT at FBH, Berlin
Other projects, such as an IBM quantum computer that the Fraunhofer society purchased recently, will be installed in 2021.
The whole QT strategy focuses on bringing the technology to markets; thus, technology transfer is a major aim of the federal programs. Special startup programs can be initiated any time, as the representative of the funding agency VDI-TZ, Peter Soldan mentioned. Additional programs for education are installed as well: The European Quantum Futur Academy arranges annual meetings of young people studying QT. The next event will bring 40 students from 20 EC countries to Berlin in November 2020.
The local quantum-technology community
Many initiatives are currently founded on a national scale. The workshop last week was arranged to give the community in Berlin a chance to learn about all those programs and to join local forces, which were enough to fill a full day of presentations, as plenty of academic and other research groups work on QT at the four local universities and some 10 additional research institutes.
A particular strength comes from applied research in the area, as conducted by several Fraunhofer institutions and the Ferdinand Braun Institute FBH. They all have a long track record in the development of integrated photonic components, which can be exploited for QT right now. The FBH has sent a Bose Einstein condensate (BEC) to space already, whereas the Fraunhofer HHI is actively working on modular components for quantum communication.
Berlin attracts 60% of the German startup investments; among them are several interesting small and medium-sized companies working on QT as well. Eagleyard Photonics is one of them. With currently 43 employees, this company makes all types of sophisticated diode laser sources, exploiting the nearby infrastructure of FBH. Together with its mother company Toptica Photonics, Eagleyard has establish itself along the value chain for photonics QT equipment.
Almost at the end of the event, Kai Bongs from Birmingham University gave an overview of the status of QT projects in the United Kingdom. In short, the UK is three years ahead of Germany. But, although their programs were even more focused on industrial developments, they are seeking markets and applications, too.
Where is the market for quantum technologies? And when?
Within all the brochures and funding program documents are found numerous potential markets for QT: A new era of computing is promised, and secure data transmission will change the world. New sensors will make the unseen visible in the human brain, or in the ground beneath your feet. And our autonomous cars will look around the corner with QT.
However, a group discussion at the workshop revealed a different picture. Wilhelm Kaenders, President of Toptica Photonics, reported that he quite happily sells laser sources to all those who want to try QT right now, but he doesn't see a sustainable business in that. He rather fears a "quantum winter" as we follow the Gartner hype-cycle model for QT and move from the "peak of inflated expectations" to the "trough of disillusionment."
In a more-detailed discussion, it was found that there is currently no real business-to-consumer (B2C) or business-to-business (B2B) market for QT. Sales are made into government-funded projects, either in research or in security projects. So one could call it a business-to-government (B2G) market — which is actually well-known in the world of satellite technology. There, we saw decades of progress mainly funded by government programs. Telecom joined in, but just now we are seeing a real upturn in the market with the "New Space" ideas that are currently achieving success. The money and the spirit from internet billionaires has sparked a change in the markets, and it seems as if we are there on the "slope of enlightement" of the Gartner cycle.
In an expert talk from last year, Zeiss president Michael Kaschke stated that moving ideas from the lab to (medical) markets within 15 years is quite fast: "This entails five years for prototypes, five years for clinical trials, and five years for market acceptance." QT might not need medical trials, but it seems reasonable to give it ten to twenty years to develop some niche solutions. If we compare it with the laser (you remember Maiman and the "solution seeking for a problem") or satellite technology, we may realize we'll be planning for even longer to see QT creating a multibillion dollar/Euro market.
Got optics- and photonics-related news to share with us? Contact John Wallace, Senior Editor, Laser Focus World
Get more like this delivered right to your inbox
This is a syndicated post. Read the original post at Source link .