A type of light "that shouldn't exist" can open the door to a world that is still unknown.
Green scientists discover more information about the scientific world.


Photo: Jigang Wang / Iowa State University / BBC News Brasil
Scientists at Iowa State University in the United States say they have discovered a way to access unique properties of quantum physics by using light waves at high frequencies to accelerate superconductors (materials that can conduct electrical current without resistance or loss of energy).
Researchers at the US Department of Energy's Ames Laboratory, which is associated with the university, say they did the first experiments to use pulses of light at terahertz frequencies (trillions of pulses per second) to accelerate electrons known as Cooper pairs.

According to a study published in the journal Physical Review Letters, after tracking the light emitted by the accelerated electron pairs, they found "light emissions from the second harmonic" or light at twice the input frequency used to accelerate the electrons.
"These emissions of the second harmonic should be prohibited (by the laws of traditional physics) in superconductors. This goes against conventional wisdom," said Jigang Wang, the study's lead author.
The team said that this "forbidden light" is "a fundamental discovery for quantum matter".

How did they discover the 'forbidden light'?
According to research published in Physical Review Letters, scientists used a tool called terahertz quantum spectroscopy, which can visualize and direct the flow of electrons.
The team employed laser flashes at a rate of trillions of pulses per second, which helps to accelerate superconductors and therefore access new quantum states of matter.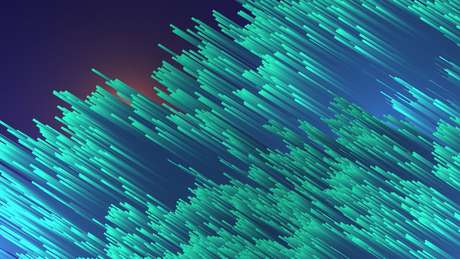 The equipment uses flashes to obtain a frequency of billions of pulses per second
Photo: . / BBC News Brasil

"The forbidden light gives us access to an exotic class of quantum phenomena, that is, energy and atom particles on a small scale," explained Ilias Perakis, professor of physics at the University of Alabama at Birmingham and one of the study's co-authors.
What is the 'prohibited light' for?
According to the study, scientists believe that "prohibited light" emissions could be applied to the manufacture of high-speed quantum computers, as well as communications and other technologies.
"Finding ways to control, access and manipulate the special resources of the quantum world and connect them to real-world problems is a major scientific goal these days," said Perakis.

Wang, in turn, said that the study and development of technologies associated with this discovery will allow for high speeds and low energy consumption in future quantum and electronic computing strategies.
See too:
How to use a face mask correctly


BBC News Brasil – All rights reserved. Reproduction without written permission from BBC News Brasil is prohibited.


This is a syndicated post. Read the original post at Source link .