An aspiring scientist has won an award for his breast cancer data research that could have applications for other illnesses.
James Zingel from Tauranga has won the 2020 Prime Minister's Future Scientist Prize.
He is "absolutely flattered" and stoked to be chosen as the winner.
For the project, James ran a breast cancer dataset through a classic computer and quantum computer, to see which would analyse the data best.
The dataset has information from thousands of breast cancer patients and included details about the size and colour of tumours.
James trained a model on both computers to see which factors of the data are important, and to predict the correct class of cancer.
He says if you just look at data, defining the cancer can be unclear, when a doctor looks at the data they have to come to their own conclusion.
"In medicine it's really important that you have an early diagnosis that's correct."
James' model was around 80 per cent accurate and his research concluded that currently the classical method is better than the quantum one.
"I suspect as our quantum computing grows and we get more qubits in our quantum computers, the quantum algorithm will much outperform the classical one in the very near future."
He says medicine is turning to technology for diagnostics more often now.
"In hospitals, they're using a lot more identification and classifying with computer systems."
The 19-year-old has loved maths and science since he was a child and he credits his dad, who is a computer programmer, as a major reason for him getting into computing.
"I've always been passionate and curious about how the world works and why it works that way."
James taught himself linear algebra and the ingenious methods used to calculate algorithms.
He has gone from a general understanding of quantum physics theory, to describing it in maths, and finally coding it in a language that generates coherent results.
"I love sharing my project with people. I love teaching them a bit more about quantum physics, especially as they think I'm an expert in it, but I'm really not, but it really is my passion. I love how people always get excited by it and excited by the future and that's the exact same reaction that I have, so it's been a wonderful project to do."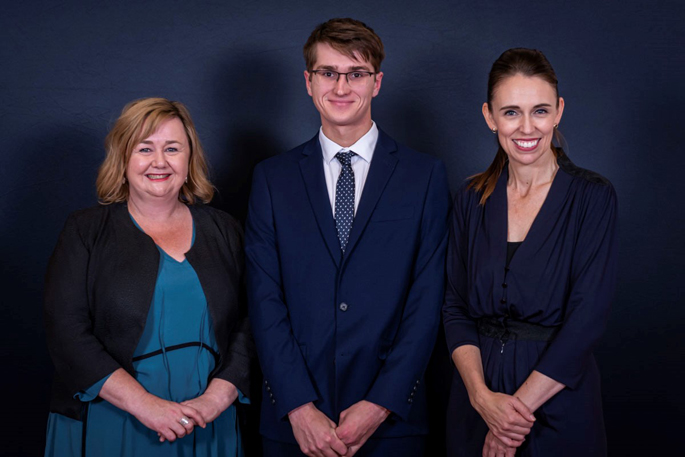 James Zingel with Minister of Research, Science and Innovation Megan Woods and Prime Minister Jacinda Ardern at the awards ceremony. Supplied image.
He has spent hundreds of hours on the project and it took up a lot of spare time during his last two years at Bethlehem College.
The Prime Minister's Science Prize judges are impressed with how James "threw himself wholeheartedly into his project".
Bethlehem College principal Larne Edmeades has great hopes for what James will be able to achieve in the future.
"I'm sure, given his whole-hearted approach, he will do tremendously well with like-minded and talented people at university level."
James is in his first year at the University of Auckland studying a Bachelor of Science, double-majoring in physics and mathematics.
His Future Scientist prize of $50,000 will help with education costs.
This is a syndicated post. Read the original post at Source link .