Technological advances in big data, artificial intelligence and cloud computing have altered the trajectory of research and development, energizing and influential industry.
The COVID-19 pandemic bolstered telemedicine and eHealth solutions, while the rush to create a vaccine led to shared research and collaboration between organizations. Underlying all was an increased demand for data, which in turn highlighted the need for secure yet accessible cloud storage and advanced methods of data analysis.
Ahead of our presentation of the AWS Startup Showcase featuring rising stars in AI, security and life sciences, theCUBE, SiliconANGLE Media's livestreaming studio, takes a look at current advances from the cloud native innovators impacting the healthcare and life sciences sector.
The record-breaking health tech boom continues
At the start of 2020, some analysts predicted the boom in the health technology market was about to go bust. But the slowdown turned out to be a small dip that quickly reversed course.
Interest in this sector's cloud native startups is currently sky-high. Third-quarter 2020 was the biggest ever for venture capital investment in life sciences, according to research by Rock Health Inc. That record was blown away when first quarter 2021 closed with $6.7 billion in digital health funding (up $2.7 billion on 3Q 2020). As well as increased funding in general, the average deal size increased from $31.7 million in 2020 to $45.9 million in 1Q 2021.
As healthcare digitizes, traditional pharmaceutical companies find themselves modernizing legacy portfolios inherited through multiple mergers and acquisitions. They also face a degree of competition from the tech giants. Amazon, Alphabet Inc. and Microsoft have moved into the field, creating Amazon Care, Google Heath, and Microsoft Cloud for Healthcare, respectively, alongside strategic investments and acquisitions.
Pivotal tech includes data management software and applied artificial intelligence, facilitating speed and agility for research and development and consumer-facing apps.
Fast, shareable data
Research and healthcare data has moved from files and applications kept within an organization to being stored in the cloud. This accelerated in the past couple of years, with two-thirds of mission-critical life science applications now accessible in the cloud, according to IDC Research Inc.
"The world has become data-centric, leveraging high-speed networks to generate real-time data," IDC concluded in a 2021 analysis of trends shaping the life sciences industry.
The benefits are wide-reaching. The ability to collaborate on projects and share research is a huge cost and time savings to life sciences R&D and was key to the fast development of vaccines for COVID-19. Moderna's timeline of 63 days from sequence selection to first human dosing was unheard of for an industry that measured such processes in years, if not decades.
Placing the credit on technological advances in data science, Mike Tarselli, chief scientific officer at TetraScience Inc., told theCUBE: "Everything [Moderna does] is automated. Everything they do is cloud-first. Everything they do is global collaboration networks with harmonized data." He believes this will become the prevalent model for the life sciences sector within the next three to five years.
TetraScience is a pioneer in cloud collaboration for research and development, and the company's R&D Data Cloud is both cloud native and open.
"We are taking the world of data and we are trying to resolve it in such a way that people can pipe it from the data sources they have in a vendor-agnostic way to the data targets in which they need to consume that data," Tarselli told theCUBE.
Two terms are important when it comes to data's role in life sciences: real-time, or real-world, data, known as RWD, and real-world evidence, or RWE. Both are instrumental when it comes to providing the insights that lead to personalized treatment.
RWD provides in-the-moment insights into patient health and tracks how clinical trials affect different people in different scenarios. This means treatments can be adjusted on the fly to better meet patient needs or, in the case of clinical trials, treatments can be refined faster to create a more effective drug or device in less time.
RWE applies to the ability to analyze historical data gathered in data lakes. Breaking down the barriers between traditionally siloed data reposits not only eliminates funding spent on duplicate research, but gives a greater pool of data for analysis. It also enables the discovery of connections that couldn't be made within smaller data sets.
"We can do multivariable analysis in real time. We can predict what will happen. We can alert the operator to make changes to the process based on a number of predictions of what will happen in a batch or series of batches when manufacturing," John Vitalie, chief executive officer of manufacturing process optimization platform Aizon, told theCUBE.
Cloud technology has also made it possible to bring unstructured data into those calculations, he added.
The role of AI in modern life sciences
Breaking down the silos that hold healthcare data can't be done without the help of AI. Abacus Insights Inc. was founded by a coalition of ex-AWS and ex-Google data experts to provide an AI-powered platform that securely manages the ever-increasing amounts of healthcare data.
Abacus Insight's expert AI engines employs a use-case specific neural architecture search to find the best neural network for a problem based on the training dataset, according to the company's co-founder and Chief Executive Officer Bindu Reddy. "When training data is not sufficient … Abacus.AI uses generative modeling to augment the customer dataset with synthetic data," he told theCUBE.
AI can also help companies deal with legacy inefficiencies. Identifying and eliminating or automating redundant and manual processes allows companies to streamline operations, and makes it easier to maintain compliance with regulation and privacy laws. AI-as-a-service provider Olive Inc. provides an intriguing example of the potential for AI in healthcare with its intelligent workforce solution.
More than robotic process automation, Olive's platform aims to work alongside human healthcare administrators, automating administrative tasks and optimizing the healthcare experience. One of the life sciences startups on the receiving end of the mega-deal boom, Olive received $225.5 million in capital last December with a valuation of $1.5 billion.
Olive, Aizon, TetraScience and Abacus are all participating in the upcoming AWS Startup Showcase: The Next Big Things in AI, Security & Life Sciences. Jointly hosted by theCUBE and AWS, the event takes place on June 16. Cloud-native life sciences startups use AWS services to accelerate research, rethink patient care and maintain clinical and operational continuity, Jared Saul, M.D., global lead, healthcare, and life sciences startups and investors at Amazon Web Services Inc., told theCUBE.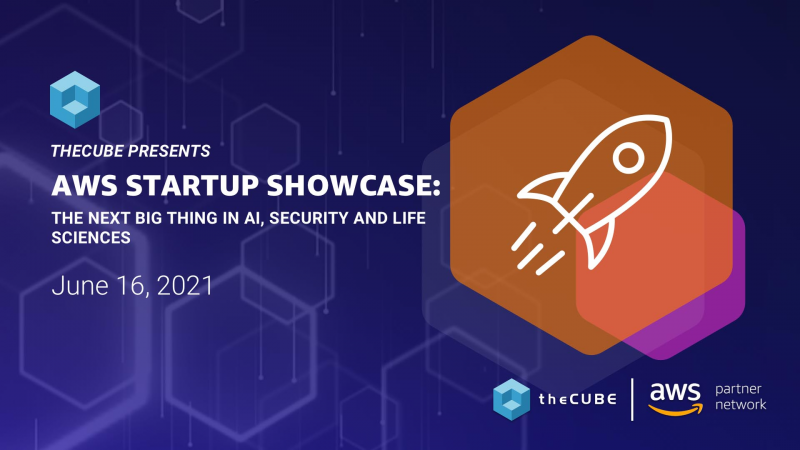 AWS has experts in genomics, computational chemistry and biology, and bio-informatics to support healthcare and life sciences startups, as well as offering tools such as Quick Starts automated reference deployments for life sciences and healthcare.
"These accelerators reduce hundreds of manual procedures into just a few steps so that startups can build their secure and compliant production environment quickly and start using it immediately," Saul stated.
Capitalizing on the COVID boost for the future of life science innovation
The future of life sciences has always been an open field of possibilities, and the potential for discoveries grows in tandem with advances in technology. As scientists and entrepreneurs link forces under the common goal of environmental and social betterment, the same processes bearing the COVID vaccine in record time can be applied to cures for cancer and other diseases. The combination of unprecedented collaboration, funding and technological advancements has made life sciences an exciting field that is attracting innovators.
"Given all the vectors coming together and the market pressure that's happening, and the technology being at a maturity level that we could make these things a reality for customers, the size of the challenge and market opportunity was just overwhelming," Aizon's Vitalie told theCUBE.
As quantum technology becomes reality, a new wave of innovation in healthcare is poised to enter the market. A July 2020 survey by SRI International found that 70% of life sciences companies were currently evaluating or preparing to evaluate quantum computing, and many quantum research projects are already under way. Google recently joined forces with German pharmaceutical company C.H. Boehringer Sohn AG & Ko. KG to apply quantum computing and AI to pharmaceutical R&D. Other research in progress includes quantum nanodiamonds for early disease detection and microscopes powered by quantum entanglement.
What applying the truly unlimited potential of quantum technology to life sciences and healthcare will mean for the future is as yet unknown. However, predicting that life sciences will nurture a healthy innovation ecosystem for the foreseeable future is a pretty safe bet.
---
Show your support for our mission by joining our Cube Club and Cube Event Community of experts. Join the community that includes Amazon Web Services and soon to be Amazon.com CEO Andy Jassy, Dell Technologies founder and CEO Michael Dell, Intel CEO Pat Gelsinger and many more luminaries and experts.
.



This is a syndicated post. Read the original post at Source link .