Thematic investing could help long-term investors gain from transformative, structural trends. According to BlackRock:
"Thematic exchange traded funds (ETFs) target stocks positioned to benefit from potential shifts in technology, society, the environment and demographics over time."
Therefore, today's article introduces two funds that could appeal to a range of investors who may not be able to do all the fundamental analysis and analytical work on individual firms. Instead, they could simply buy a fund that focuses on the industry or the trend they are following.
We should note that many thematic ETFs are more expensive than most of the widely-held index funds based on the , the or the index.
1.
Defiance Quantum

ETF
Current Price: $52.30
52-week range: $31.76 – $52.51
Dividend yield: 0.42%
Expense ratio: 0.40% per year
Analysts highlight quantum computers are already impacting many sectors, including artificial intelligence (AI), finance, healthcare, manufacturing, security, transportation and others.
For instance, International Business Machines (NYSE:) suggests, "Chemical discovery, product development, and process optimization are among the manufacturing areas likely to witness major innovations with quantum computing."
Meanwhile, readers might be interested to know that in June, IBM unveiled Europe's most powerful quantum computer in Germany. Recent metrics highlight that the quantum computing industry is expected to grow at a compound annual growth rate (CAGR) of about 30% in the next five years.
Our first fund, the Defiance Quantum ETF (NYSE:) gives exposure to global firms leading the technology and use behind quantum computing, machine learning, and cloud platforms.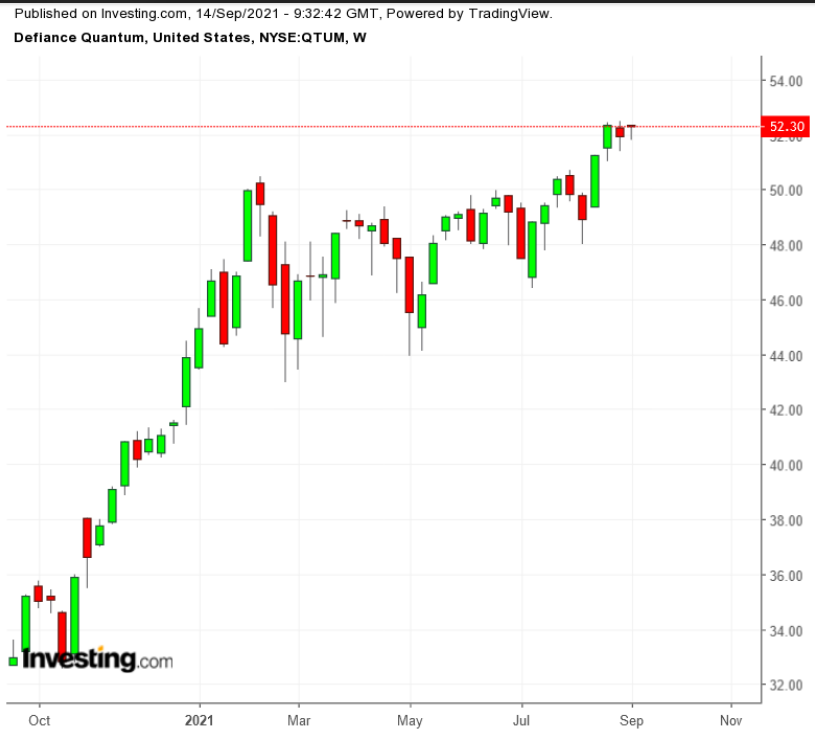 QTUM, which tracks the BlueStar Quantum Computing and Machine Learning Index, currently has 71 holdings. The fund was first launched in September 2018.
Among the subsectors in the ETF, Quantum Computing Technology (35.57%) has the largest slice. Next in line are Machine Learning Services (21.45%) and AI Chips (17.65%). Close to 59% of the firms are US-headquartered. Other stocks come from Japan, the Netherlands, Taiwan, France and others. The top 10 stocks make up less than 20% of net assets of $132.4 million.
Among the leading holdings in the roster are Chip names Analog Devices (NASDAQ:), Advanced Micro Devices (NASDAQ:) and NVIDIA (NASDAQ:); Ambarella (NASDAQ:), which develops systems-on-chips and other software for image processing; Splunk (NASDAQ:), which operates in the data management software space; and Synaptics (NASDAQ:), which has seen remarkable growth in its Internet of Things (IoT) business.
So far in 2021, the fund is up about 25% and saw an all-time high (ATH) on Sept. 10. As the names in QTUM show, pure-play quantum computing stocks are not that common. Instead, many tech groups are putting more resources into this high-growth segment.
In the case of short-term profit-taking in the tech space, a decline toward $50 or even below would be likely. Such a drop would improve the margin of safety. We expect many of these tech names to create shareholder value in the coming years as well.
2. Invesco MSCI Sustainable Future ETF
Current Price: $66.06
52-week Range: $54.63 – $83.84
Dividend Yield: 0.62%
Expense Ratio: 0.58% per year
Asset management group Robeco highlights:
"Sustainability-themed investments contribute to addressing social or environmental challenges by investing in companies offering solutions to these issues. The most important issues tend to be population growth, rising wealth in the developing world, natural resource scarcity, energy security and climate change."
Our second fund, the Invesco MSCI Sustainable Future ETF (NYSE:), invests in businesses typically taking steps to contribute to a more environmentally sustainable economy.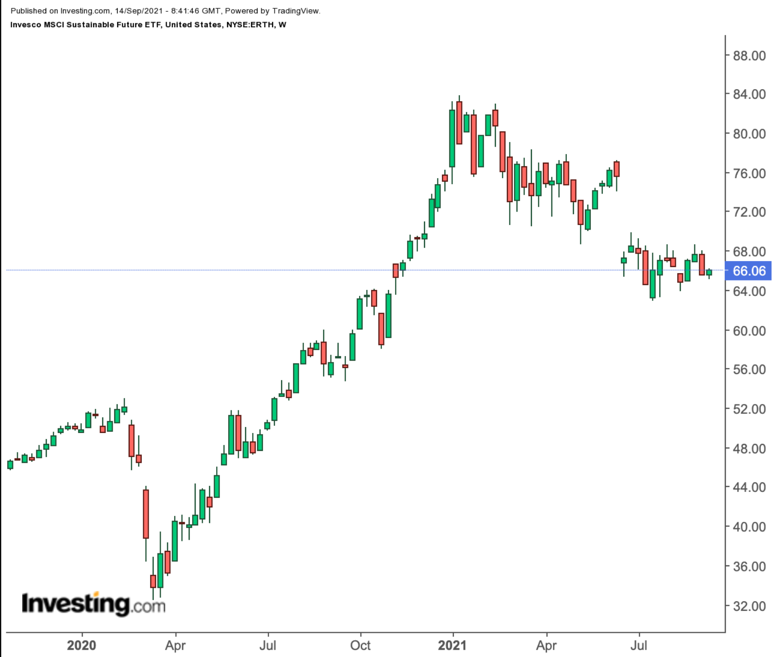 ERTH, which has 143 holdings, tracks the returns of the MSCI Global Environment Select Index. The fund started trading in October 2006. About 35% of the companies are US-based. Others come from China (20.74%), Japan (6.53%) and Denmark (5.74%).
The top 10 names comprise close to 40% of net assets of $410.7 million. In terms of sectors, we see industrials (32.51%) followed by consumer discretionary (18.24%), real estate (16.84%), information technology (13.67%) and utilities (8.45%).
Leading holdings include electric vehicle (EV) manufacturers Tesla (NASDAQ:) and Nio (NYSE:); Danish wind turbine group Vestas Wind Systems (OTC:); real estate investment trust (REIT) Digital Realty Trust (NYSE:) which focuses on data centers; and Enphase Energy (NASDAQ:), which offers solar system microinverters.
The ETF returned 15% in the past year but is down about 13% so far in 2021. ERTH hit a record high in January but has lost over 20% of its value since then. Forward P/E and P/B ratios are 30.01x and 2.58x. Interested readers could consider investing around these levels.
This is a syndicated post. Read the original post at Source link .